Manston Airport -
Proposed Night-time Flying Policy
Background
In 2009, following the potential start of dedicated cargo service by British Airways World Cargo, Thanet District Council (TOC) asked Manston Airport (MSE) to develop and submit to the council a Night-time Flying Policy, per clauses 1.2 and 1.3 of the Second Schedule to the Section 106 agreement dated 26 September 2000. An initial proposal was put forward on 17 August 2009, from which TOC requested further information. Subsequent discussions with members and officers have lead to this current proposal.
For airports to prosper and fulfil their potential in stimulating economic activity, they must be in a position to serve the needs of the markets in which they operate. Equally importantly, the operation and development of an airport must be acceptable to the resident and business communities within which it is located.
Clearly the issue of night-time noise is significant for residents in close proximity to the airport. This is the reason that many airports have specific policies governing, and sometimes limiting, their activities between the hours of 2330 and 0600.
Master Plan
National Aviation Policy is set out in the Future of Air Transport White Paper (FATWP) in 2003. The key strategic policy set out was that most effective use of existing runways should be made, in order to delay or remove the need for either new runways or, indeed, new airports. The incoming Coalition Government has stated that new runways will not be built at any of the major three london airports -Heathrow, Gatwick or Stansted. Therefore the expected growth in the air market for both passenger and freight traffic will need to be accommodated within the existing runway capacity. This national policy position further increases the prospects for future demand at Manston.
Amongst the requirements set out in the FATWP was that for airports to produce Master Plans for their development over the following 25 years. These are to be used to inform the development of local and regional planning policy. Manston Airport, then trading as Kent International Airport, published its draft Master Plan for consultation in October 2008. Following a wide-ranging public debate, with comments received from many interested parties, notably TDC, the final Master Plan was published in November 2009, incorporating many of the points raised.
TOC has, at full council, received the Master Plan and resolved that in due course officers will prepare supplementary planning guidance regarding the airport.
The Master Plan sets out the prospects for traffic growth at Manston Airport, together with the potential land use developments needed to accommodate this increase in activity. It also identifies the economic impact that such growth may be expected to bring.
Of all commercial flights (passenger and freight activity, excluding general aviation and military) the Master Plan shows approximately equal numbers of passenger and freight movements. Over the period to 2018 it is expected that passenger movements, the vast majority of which are carried out during the day, will grow substantially faster than freight, by then accounting for almost 90% of commercial movements.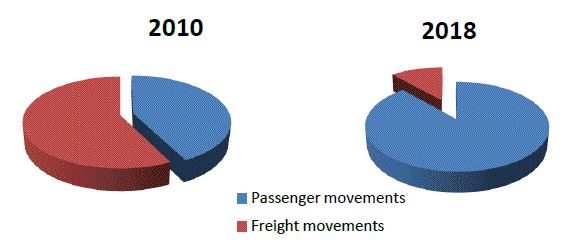 In particular, the Master Plan forecasts that direct employment at the airport will rise to 500 by 2018, and further to 1000 by 2033, with total employment generated by the airport (including direct, indirect, induced and catalytic) reaching 2800 by 2018 and 6150 by 2033.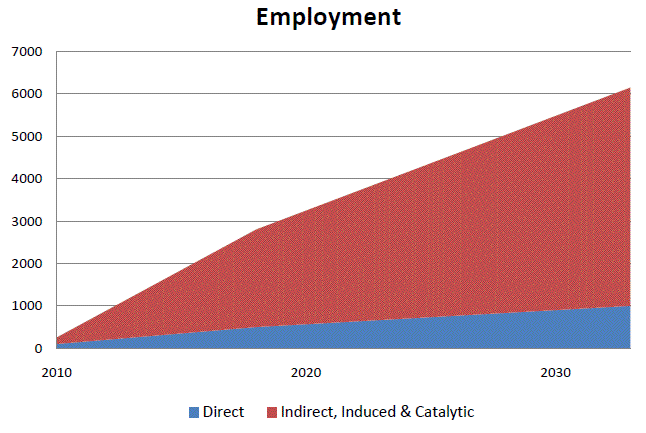 The airport currently employs 111 staff, with a similar number directly employed on the site through other organisations. Of MSE's own employees the significant majority (61%) live within Thanet.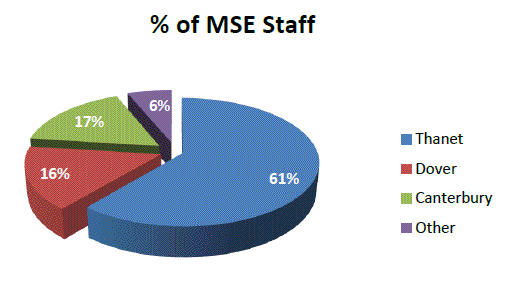 As the airport develops and employment levels increase this broad distribution of employment in the area is unlikely to significantly change. Large proportions of the employment at any operating airport are worked on a shift basis. It is in the organisational interests to engage staff from the local area to minimise travel to work times and maintain flexibility in work patterns. For employees, it is equally attractive to work for a local employer, for many of the same reasons and to reduce travel to work costs.
Market and Business Requirements
For the airport to be able to realise its potential and create the economic and social benefit that will flow from its growth, it has to establish itself as a commercially successful operation. In particular, the fundamental costs of operating the airport (Security, Fire Service, Air Traffic Control, Infrastructure) have to be supported by the business it is able to attract. In the case of Manston Airport this will, in the short-term, continue to be based on freight traffic. The progressive development of passenger services and routes will only be possible if the existing freight business is successful and can contribute to the fixed cost base of the airport.
Aircraft operators function in an environment of very high fixed costs, primarily related to the high capital cost of the aircraft. To offset these costs operators seek to maximise flying time for which they earn revenue. This driver leads to aircraft being scheduled for as long as possible during the day, with maintenance activity planned to be carried out at night.
On occasions scheduled flights are subject to delays for a variety of reason -weather, engineering faults, congestion of a terminal, airport or airways, or for other reasons. In these circumstances it is vital that the aircraft completes, albeit late, its planned sectors to ensure the customers, whether passenger or freight, are delivered to their destination airport, and that the aircraft is correctly positioned for the subsequent flight.
Delays of this sort can accumulate over a flying day or longer period, and may result in airports needing to operate outside their normal hours to service passengers, freight and aircraft. The reputation, and hence competitive position, of an airport is damaged when it is not able to meet such fundamental customer needs.
This requirement to operate at night is recognised throughout the airport industry and is managed at many sites through the implementation of a night-time noise quota system. This system provides the airport with a mechanism to accept night-time flights within agreed levels, whi le providing the community, though the local authority, with assurance and protection from excessive and unacceptable noise levels arising from uncontrolled activity.
Additionally, and in order for freight airlines to satisfy the needs of their clients and ensuring that consignments meet delivery schedules, a small proportion of traffic has to be scheduled to fly at night. For the airport to be attractive to wide variety of freight airlines, serving a diversity of source markets, it is important to have the flexibility to schedule services during the night-time, and to control and manage these in a manner acceptable to the local community. This need is anticipated in the existing Section 106 Agreement, which calls for a Night-time Flying Policy to be developed prior to such regular operations commencing.
Proposed Night-time Flying Policy
In order to regulate Night-time Flying at Manston Airport, it is proposed to adapt the Noise Quota system in regular and successful use at other airports (Bristol, Birmingham, Gatwick, Heathrow, liverpool, Doncaster, Manchester, and Stansted) to the local circumstances and market needs for MSE.
This system allocates a Quota Count (Qe) to each arrival or departure, based on the aircraft manufacturer's certification operating at maximum weight. The total of these QCs, as set out below, gives the Annual Quota Count.
In line with the comments received during the Master Plan consultation period from, amongst others, TDC's Airport Working Party and the Airport Consultative Committee, the proposed system has been devised to be simple and easy to apply, straight forward to monitor and to provide clarity and certainty for the local community, the Council and the ai rport operator.
The proposed Quota Count System for Manston Airport is as follows:
Night-time Period will be 2300 to 0700 local time.
Night-time Quota Period will be 2330 to 0600 local time.
Annual Quota Count will be the sum of the individual Quota Counts (Qe) of all flights arriving or departing during the Night-time Quota Period within a calendar year (January to December).
There will be no scheduling of aircraft of Quota Count greater than QC4 within the Night-time Pe riod.
Annual Quota Count not to exceed 1,995.
Preferred Departure Runway and Noise Abatement Routes as set out in clauses 4 and 5 respectively of the Second Schedule to 5106 dated 26 September 2000 (runway 10 for arrivals and runway 28 for departures) to be used whenever possible during the Night-time Period consistent with safe operations.
In recognition of the lower impact of movements approaching from or departing towards the west, movements which operate on such routes will count towards the Annual Quota Count and Community Contribution at 50% of their certified rate.
For movements exceeding QC4 during the Night-time Quota Period, the operator will make a Community Contribution of £1,000 for each occasion to the Manston Airport Environmental Improvement Fund (MAEIF).
MSE will guarantee minimum annual contributions to MAEIF of £10,000.
To improve the current monitoring and reporting of night flights, each flight that operates during the Night-time Quota Period will be reported monthly to Thanet District Council and the Airport Consultative Committee.
The airport will publish monthly noise data on its website to ensure that this is accessible to members of the public.
Impact assessment
The airport has commissioned an impact study from Bickerdike Allen and Partners (BAP), leading experts in the assessment of noise surrounding airports. This study has assessed the extent of noise contours that will result from the proposed level of activity, together with dwelling and populations counts within each contour, when the ultimate activity level is reached, projected to be by 2018. Further it considers the likely perception of the community exposed to these levels of noise, in line with UK standard practice.
In particular, this report suggests that consideration be given to the development of a dwelling insulation scheme, to be implemented for dwellings that fall within the 57dBLAeq,8hr contour calculated for the previous 12 months. The assessment contained in the report shows that currently no dwellings fall within this contour, but that some 318 may be expected to do so at the traffic levels forecast for 2018.
The airport is committed to developing and agreeing such a scheme with TDC prior to any dwellings being encompassed by this contour.